Old town dreams of Lübeck

Distance
5 km

Duration
approx. 3 hours

Characteristic
stagnant water

Suitability
groups

Reqirement
standard physique
The whole magnificence of the Hanseatic city Lübeck can best be experienced from the boat: the five large churches show their 7 towers; the "pits", medieval streets, give the viewer images of the past centuries. Follow a piece of the historic waterway that the driver of the Stecknitz have covered to the "Salzspeicher" (salt storage).
On the Trave, which is running to the Baltic Sea, you can still feel the spirit of the old Hanseatic city and its merchants, who once set out from the Holsten Habour to open up the trade routes to the Baltic countries. It is an extraordinary way to discover the city in this way. Be inspired by the flair of this city.
In the present time, the harbor is more tranquil. In our Grand Canadians (for 9 participants) you can feel completely safe. A helmsman ensures the right course.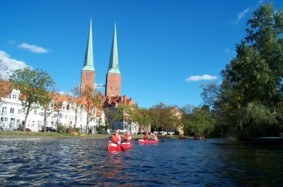 The west of Lübeck is bounded by the "Trave" and the "Stadtgraben" (moat). While the moat essentially was for the city defense, the Trave, in the medieval Lübeck, had great importance for access by water to the Baltic Sea and the neighboring countries.
The "Wakenitz" in the east of the city served as a "food supplier": Fish and especially drinking water were important goods that the growing city needed. Until 1900 the new "Elbe-Trave-Kanal" found its bed in part of the course of the "Wakenitz". It is an extraordinary opportunity to discover the Hanseatic city by boat. Be inspired by the flair of this city. In the present time, the hustle in the harbor has given way to tranquility, so that the greatness of this city can be easily experienced by canoe.
Prices
| | |
| --- | --- |
| Per person | 33,00 € |
| Children 6-13 years | 15,00 € |
Including
Seat in the big Canadian Canoe
Life jacket
Paddle
Baggage ton
Information about the cityhistory
u. objects at the waterside
Lübeck's traditional delicacies
Note
For your booking you need at least 8 participants.
Please note for larger groups, the size of allocation per boat: You need at least 6 adults to drive a large Canadian Canoe.
Child discount only with a minimum of 6 full paying participants
Dates / Times
Daily, time by appointment