Children's birthday party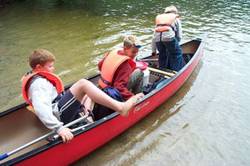 Children's birthday parties with action & fun!
Digitization doesn't stop at the children's rooms. With a canoe tour you can offer the children a real "live game". You can get really wet if you fall into the water!
Children over 10 years are usually already able to control Canadians alone. But for safety reasons, these tours must be accompanied by 2 adults. Trave, Wakenitz and Schaalseekanal are suitable for these tours.
You want more adventure? This canoe tour can also be combined e.g. with an overnight stay in a covered wagon on the Schaalsee camp. At the campfire you can be together and cook something nice.
Children's birthday party
Including
1 seat in the Canadier, life jackets, paddles, 1 baggage bin (per boat)
Transport cost
Tour Description
Instruction
Minimum number of participants 4 persons
Price