Distance
10 km from Ratzeburg
7,5 km from bridge Schmilau

Duration
2 days

Characteristic
1 cross over point (for the canoe)
nearly stagnant water

Suitability
small groups

Requirement
standad physique

more information
Two days in the nature park
Start and final point is the island town of Ratzeburg which is surrounded by water. You paddle around 11 km on the Schaalseekanal, the most beautiful canal in Schleswig-Holstein, until you reach the "Schaalsee-Camp" at the end of the Pipersee. There you will sleep in covered wagons or tipis, which offer a weatherproof accommodation. The next day you paddle back to Ratzeburg or you use the day for a canoe trip on the Schaalsee.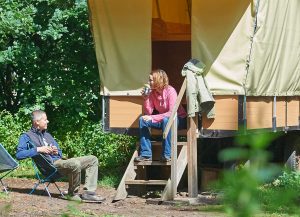 Option 1: Arrival point at Ratzeburg – Round trip from Ratzeburg by canoe
Option 2: Arrival point Schaalsee-Camp – Passenger shuttle to Ratzeburg, Day 1: Canoe trip to the camp, Day 2: Canoe trip to Salem or Schaalsee, delivery of equipment at 2 pm
The Schaalseekanal is the most beautiful canal in Schleswig-Holstein.
It connects the Schaalsee with the Ratzeburger See and was originally built to operate the small hydropower plant in Farchau. Because the small power plant still is in operation, you and your canoe have to cross over for the duration of one kilometer(1.6miles), with the help of a canoe trolley, before the canal runs into the Ratzeburger See at the height of the restaurant Farchauer Mühle (Farchauer mill). This tour can also be used in the opposite direction.
Prices
Package 1

| | |
| --- | --- |
| Adults or adolescents (from 14 years) per pers. | 77,00 € |
| Children (up to 13 years) per pers. | 29,00 € |
Package 2

| | |
| --- | --- |
| Adults or adolescents (from 14 years) per pers. | 88,00 € |
| Children (up to 13 years) per pers. | 40,00 € |
Including
Package 1

1 night in covered wagon or tipi
Canoeing equipment including life jacket, luggage bag, 1 baggage car per boat
Takeover and Delivery of equipment in Ratzeburg
Instruction
Safety certificate
Package 2

1 night in a covered wagon or tipi
Canoeing equipment including life jacket, luggage bag, 1 baggage car per boat
Takeover and Delivery of equipment in Ratzeburg
Passenger shuttle to Ratzeburg or entry point Farchau
Schaalsee charges
Instruction
Safety certificate
Note
Minimum two participants, children reduction only for 2 full-paying participants!
Suitable for children from 3 years
Self-catering
Personal equipment: bed base, sleeping bag, flashlight, cooking and eating utensils, provisions (supplies for food)
Dates
Daily from April to October